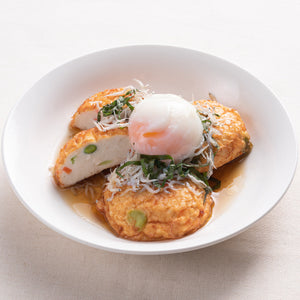 Topping with egg and Shirasu (Dried young sardines)
Cook Time: 5 mins
Servings: 2 servings
Ingredients
Tonyu Age Dashi 1+1/2
Green perilla 2 slices
Shirasu (Dried young sardines) as you like
Soft boiled egg 1/2
White sesame seed a little
Noodle soup (straight) 3/4 tbs
Sesame oil 3/4 tsp
Directions
1.Wash and drain green perilla, then cut into strips.

2.Pour Tonyu Age Dashi into a bowl and top with plenty of shirasu and step 1.

3.Place an onsen tamago on top of Step 2.

4.Pour the noodle soup and sesame oil over Step 3.

5.Finally, top with white sesame seeds.