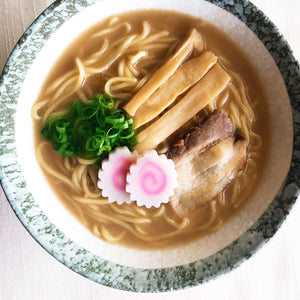 Tonkotu-Style Ramen topping with Naruto
Just add Naruto on Ramen, you can easily create an attractive ramen experience.
Cook Time: 15 mins
Servings: 2 servings
Ingredients
Ramen noodles (fresh/dried/frozen) 2 packs
A Water 400ml
A Salt 1/2 teaspoon
A Ground black pepper to taste
A Grated garlic 1/4 teaspoon
A Instant chicken soup stock granules 1/2 teaspoon
A Milk 100ml
Green onions 2 stalks
Menma (bamboo shoots)20g
Chashu (roasted pork fillet) 2 slices
Naruto 2 slices
Directions
1.Put all ingredients A in a pot, heat it up and warm it while stirring until it almost boils to make the soup.
2.Cut the green onions into small pieces, and cut the menma, chashu, and naruto into bite-sized pieces.
3.Boil the noodles according to the instructions on the package, drain the water and place them in a bowl.
4.Pour the soup from step 1 into the bowl from step 3, add the toppings from step 2, and it's ready to serve.