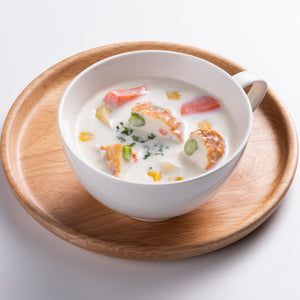 Cook Time: a half day
Servings: 2 servings
Ingredients
Tonyu Age Dashi 3
Potato 1
Onion 1/2
Water 2 tsp
Unadjusted soy milk 200ml
Directions
1. Cut Tonyu Age Dashi into 1/4 pieces. Peel the potatoe and onion and cut into thin slices.
2. Place the sliced potatoe and onion in a heatproof container, add 2 tsp of water, cover with plastic wrap,
and microwave at 500W for 7 minutes.
3. After removing the heat from step 2, pute in a food processor, add A, and blend until smooth.
4. Heat soy milk in a pan over medium heat, add step 4, onyu Age Dashi, and B to taste.
5. Chill in the refrigerator for 12 hours, place in a bowl, and top with C.