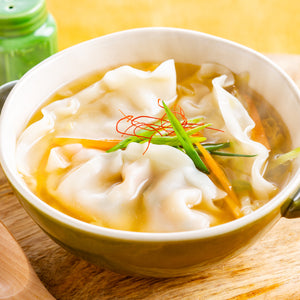 Soup Gyoza that made from plant-based dumplings.
Cook Time: 15 mins
Servings: 2 servings
Ingredients
Vegetable Gyoza 6
Sliced cabbage 2
Carrot 1/4
Soy sauce 1/2 tsp
Salt 1/3 tsp
Pepper a pinch
For Soup
Chicken Stock with water 400ml
Cooking sake 1 tbs
Directions
1.Cut the cabbage into bite-size pieces and shred the carrots.
2.Mix chiken stock with water and cooking Sake in a pot to boil. Put the frozen Vegetable Gyoza and add Step 1 ingredients. Cover until the vegetables become soft.
3.Add soy auce, salt, and pepper to taste and serve.