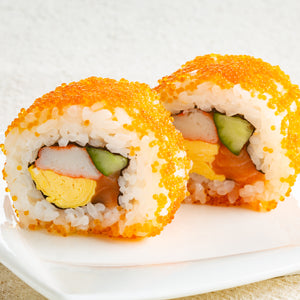 Sea delica California Roll
California Roll that made from healthy imitation  crabmeat.
Cook Time: 20 mins
Servings: 1 serving
Ingredients
(A) Ingredients for the inside of roll
Sea delica sticks 2
Rolled Egg 50g (1.7oz.)
Fresh Salmon 50g (1.7oz.)
Avocado 1/2
Nori (Roasted Seaweed) 1 sheet (large)
Ingredients for the outer part of roll
Sushi Rice (Vinegared) 220g (7.7oz.)
Tobiko/Masago (Orange Fish Roe) 24 tbsp Makisu (Sushi rolling mat)
Directions
1. Cut rolled egg, salmon, and avocado into 3.3" long pieces and set aside.
2. On Makisu (Sushi rolling mat), place a sheet of cling wrap (slightly larger than Makisu). Then, on a cling wrap, place a sheet of Nori and cover the Nori area with Sushi rice evently but not too thick. Then, sprinkle Tobiko/Masago evenly to cover the Sushi rice and flip the whole thing inside out.
3. On the Nori side facing you, evenly place Step 1 ingredients and Sea delica sticks at the bottom half of the Nori sheet. Then, gently roll it up until where the rice part meets the other rice part.
4. As you roll up, carefully roll back the cling wrap where overalaps. Then, continue to finshi rolling it up.
5. Once you roll it up, gently form into a rolling shape..
6. Cut through the Sushi roll into one-bite sizes with wet knife. Remove the clingp wrap to serve.