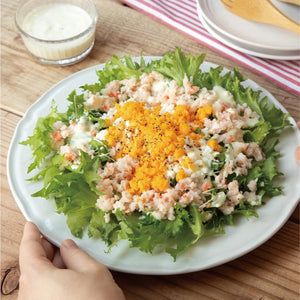 Mimosa Salad with Hobo Taraba
Cook Time: 10 mins
Servings: 2 servings
Ingredients
Hobo Taraba 6
Frilly lettuce 6 pcs
Broccoli sprouts 1/2 pack
Boiled egg 2
Ground black pepper
A for dressing
Plain yogurt 2 tbs
Olive oil 1 tbs
Lemon juice 1 tsp
Salt a little
Directions
1. Tear the frilly lettuce into bite-sized pieces and cut off the roots of the broccoli sprouts. Wash and drain.
2. Break Hobo Taraba into small pieces by hand.
3. Separate the whites from the yolks of the boiled egg and mash them with a fork.
4. Place in a bowl in the order of steps 1, 2, and 3, pour over the A mixture, and sprinkle with ground black pepper.