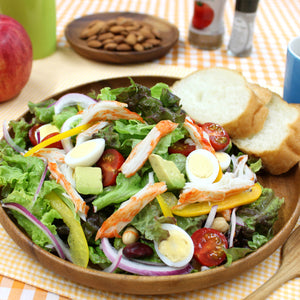 Authentic salad topping with Hogu let's
Cook Time: 25 mins
Servings: 2 servings
Ingredients
Hogu-let's 1+1/2
Lettuce as you like
Yellow Bellpapper as you like
Avocado as you like
Mini tomato as you like
Red onion as you like
Mixed beans as you like
Your choice of salad dressing
Baguette slices 4
Directions
1.Break Hogu-let's into small pieces by hand.
2.Wash lettuce thourghy, drain, and tear into bite-sized pieces. Set aside.
3.Cut yellow bellpapper into strips, avocado into 1.5cm cubes, and cut mini tomato in half.
4.Cut red onion into thin slices and soak them in water. Take out of water, drain well and set aside.
5.Place Steps 1 to 4 ingredients on a serving plate, pour over your favorite dressing, and serve with baguette slices.