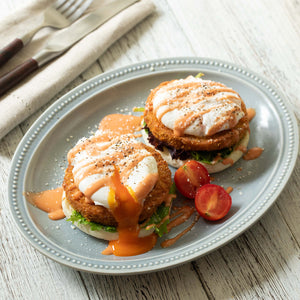 Egg Benedict with Yasai Fry
Cook Time: 20 mins
Servings: 2 servings
Ingredients
Yasai Fry 2
English muffin 1
Egg 2
Baby leaves a little
Vinegar 50ml
Cheese powder a little
Ground black pepper a little
A for sauce
Tomato ketchup 2 tbsp
Mayonnaise 1 tbs
Directions
1. Cut English muffin a half put in toaster with Yasai Fry until golden brown.
2. In a small saucepan, bring a large amount of water (not to be used) to a boil, add the vinegar, and when it comes to a boil, whirl it around with a whisk to make a whirlpool.
3. Crack one egg into the center and cook over low heat for 2 minutes and 30 seconds, then immediately place the egg in ice water to drain.
4. Do the same with the other egg to make a poached egg.
5. Arrange English muffins in a bowl, topped with baby leaves, fried vegetables, and poached eggs.
6. Pour over the A mixture, sprinkle with cheese powder and coarsely ground black pepper, and serve.