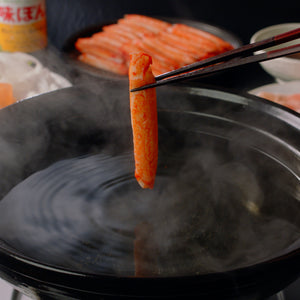 When you shabu Hobo-Kani,
Cook Time: 20 mins
Servings: 4 servings
Ingredients
Hono-Kani 10
Pork loin (thin slices) 200g
Chinese cabbage 1/8
Leek 1
Daikon Radish 1/12
Carrot 1/2
Enoki mushroom 1/2
Potherb mustard 1/2
For the pot of soup
Wather 800ml
Sake 1 tablespoon
Salt a pinch
Ponzu sauce (Citrus flavered soy sauce) as you like
Directions
1.Cut Chinese cabbages to one-bite sizes, leek into thin diagnol slices, Daikon radish and carrots to thin strips by vegetable peeler, Potherb mustard into 2" width pieces, cut off Enoki mshroom's bottom stem, and break into small bunch. Set all the ingredients aside.
2.In a Nabe (hot pot) with water, add sake and salt and boil it.
3.Once boiled, lower the heat to mideum and add half of all the step 1 ingredients. Heat up and bring to boil once again, then, the hot pot is ready.
4.Into the hot pot, lighty swim through (Shabu-Shabu) Hobo-Kani and thinly slikced porkloin. Enjoy dipping into Ponzu sauce.
5. Add more vegetable to hot pot to enjoy more.