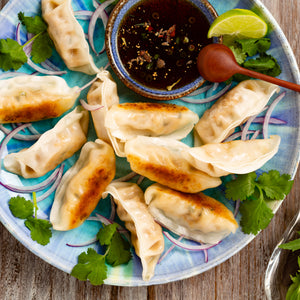 Grilled Gyoza that made from plant-based dumplings.
Cook Time: 15 mins
Servings: 2 servings
Ingredients
Vegetable Gyoza 12
Salad oil 2 tsp
Water 50ml
Sesame oil 1 tsp
Mixed Spice a little
For Dipping Sauce
Vinegar 1 tsp
Soy sauce 2 tsp
Directions
1. Mix vinegar and soy sauce for the dipping sauce. Set aside.
2. Cover the heated pan with salad oil, and once heated, lower the heat to low.
3. Place the Vegetable Gyoza in a heated pan and turn the heat up to high. Once you hear the sizzle, pour water around Gyoza and cover the pan to steam for about 5 minutes.
4. Open the lid, and when most of the water has evaporated, turn the heat to medium. Then, add sesame oil lightly around the Gyoza to coat the pan.
5. When the Gyoza is browned, remove from heat and place on a serving plate.
6. Serve with the diping sauce.