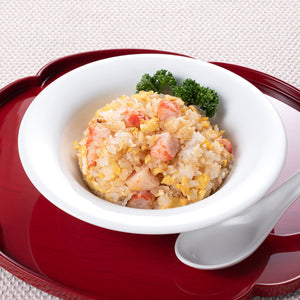 Fried Rice with Hobo Taraba
Cook Time: 15 mins
Servings: 2 servings
Ingredients
Hobo Taraba 6
Rice 300g
Egg 2
Salad oil as you like
Garlic a clove
Salt a little
Pepper a little
A for seasoning
Chicken broth 1 tsp
Cooking sake 1 tbs
Soy sauce a little
Directions
1. Cut Hobo Taraba into 5 equal pieces. Peel and mince garlic. Beat egg and set aside.
2. Add salad oil and garlic to a hot pan.
3. Add beaten egg over high heat, and when they start to set, add rice and mix.
4. Add Hobo Taraba and A and fry.
5. When Hobo Taraba is warm, it is ready.