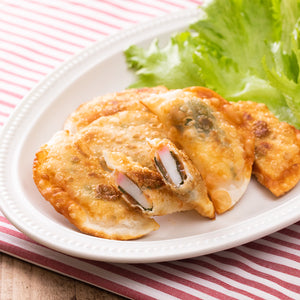 Deep fried Gyoza with Kamaboko
Cook Time: 15 mins
Servings: 2 servings
Ingredients
Tai iri Kamaboko aka 1/2
Gyoza wrapper 6
Plum paste 1 tbs
Sliced cheese 1
Green perilla 2
Salad oil 5 tbs
Directions
1. Cut the kamaboko into 6 pieces of 8mm width.
2. Place green perilla, sliced cheese, plum paste, and sliced kamaboko on gyoza wrapper and gently fold wrapper.
3. Dip the edge of the skin in water (not to exceed the amount) and secure tightly. Wrap the rest in the same way.
4. Put salad oil in a pan and fry until golden brown color.