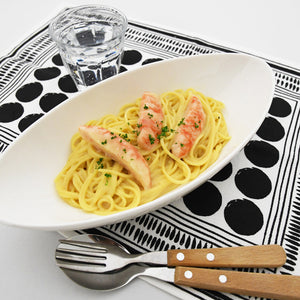 Cream Pasta with Hobo Taraba
Cook Time: 30 mins
Servings: 2 servings
Ingredients
Hobo Taraba 4
Pasta 160g
Butter 15g
Onion 1/2
Milk 100ml
Fresh cream 100ml
Consommé solid 1
Salt a pinch
Pepper a pinch
Directions
1.Mince onion, and break Hobo Taraba into small peices.
2.Melt butter in a pan and saute onions until soften, then add Hobo Taraba peices and cook quickly.
3.Add milk, fresh cream, and solid consommé and bring to a boil.
4.Add boiled pasta* to Step 3, and add salt and pepper to taste.
*When boiling pasta, add 1+1/4 tbs of salt to 2 liters of water. Follow time instruction on the pasta package.