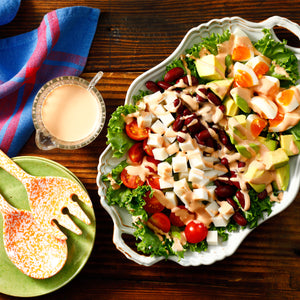 Cobb Salad with fish cake
Cook Time: 25 mins
Servings: 2 servings
Ingredients
Kamaboko 1/2
Boiled egg 1
Avocado 1/2
Lemon juice a little
mini tomato 5
Red kidney beans 50g
Lettuce as you like
Salt a little
Peppar a little
For Dressing
Mayonnaise 1+1/2 tbs
Ketchup 1 tbs
Plain yogurt 1/2 tbs
Directions
1.Cut Kamaboko into 1/2" cubes. Cut the avocado in half, remove the seed, peel, cut into 1" cubes and sprinkle lemon juice. Cut mini tomato in half.
2.Mix the dressing ingredients and add salt and paper to taste.
3.Place lettuce in a bowl, arrange Step 1 ingredients with red kidney beans on top, and pour over the dressing mix.