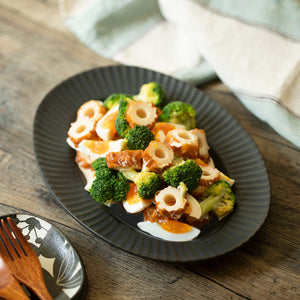 Chikuwa salad with boiled egg and Ponzu sauce
A tasty salad with Chikuwa and broccoli texture.
Cook Time: 10 mins
Servings: 2 servings
Ingredients
Chikuwa 4
Boiled eggs 3
Head of broccoli 1/2
A for sauce
Mayonnaise 2 tbs
Soy sauce with ponzu 1 tbs
Sesame oil 1 tsp
Salt a little
Pepper a little
Directions
1.Cut chikuwa into 1cm slices, and cut boiled egg into six equal pieces lengthwise.
2.Boil broccoli in salted water over low heat for about 3 minutes, then drain.
3. Mix A in a bowl.
4.Add steps 1 and 2, mix, and serve.